WOODLANDS DARK AND DAYS BEWITCHED is the first feature-length documentary on the history of folk horror, exploring the phenomenon from its beginnings in a trilogy of films – Michael Reeves' Witchfinder General (1968), Piers Haggard's Blood on Satan's Claw (1971) and Robin Hardy's The Wicker Man (1973) – through its proliferation on British television in the 1970s and its culturally specific manifestations in American, Asian, Australian and European horror, to the genre's revival over the last decade.
The film is being produced and directed by Kier-La Janisse for Severin Films, with David Gregory and Carl Daft as Executive Producers. The film includes an original score by Jim Williams (A Field in England) and special animated sequences featuring collage art by filmmaker Guy Maddin (My Winnipeg).
While exploring the key cinematic signposts of folk horror – touching on over 200 films, television plays and episodes as well as early inspirational literature – the film also examines the rise of paganism in the late 1960s, the prominence of the witch-figure in connection with second wave feminism, the ecological movement of the 1970s, the genre's emphasis on landscape and psychogeography, and American manifestations of folk horror from Mariners' tales and early colonial history to Southern Gothic and backwoods horror. Finally, the film navigates through the muddy politics of folk nostalgia. The term 'folk horror' is a loaded one, and WOODLANDS DARK AND DAYS BEWITCHED explores the many ways that we alternately celebrate, conceal and manipulate our own histories in an attempt to find spiritual resonance in our surroundings.
Over 50 interviewees appear in the film, including Piers Haggard (director, Blood on Satan's Claw), Lawrence Gordon Clark (director, A Ghost Story for Christmas series), Jeremy Dyson (co-founder, The League of Gentlemen), Alice Lowe (director, Prevenge), Robert Eggers (director, The Witch), Jonathan Rigby (author, American Gothic), Adam Scovell (author, Folk Horror: Hours Dreadful and Things Strange), Andy Paciorek (founder, Folk Horror Revival), Howard David Ingham (author, We Don't Go Back: A Watcher's Guide to Folk Horror), Alexandra Heller-Nicholas (Author, 1000 Women in Horror), Kat Ellinger (Editor, Diabolique Magazine), Maisha Wester (Author, African American Gothic) and many more, as well as archival interviews with Robin Hardy (director, The Wicker Man) and Anthony Shaffer (writer, The Wicker Man).
Woodlands Dark and Days Bewitched hits blu ray on December 7, 2021, both as a stand-alone disc, and as part of the 15-disc box set 'All the Haunts Be Ours: A Compendium of Folk Horror' from Severin Films.
Pre-order the stand-alone disc for $24.00 USD HERE >>
Pre-order the limited edition box set for $170.00 USD HERE >>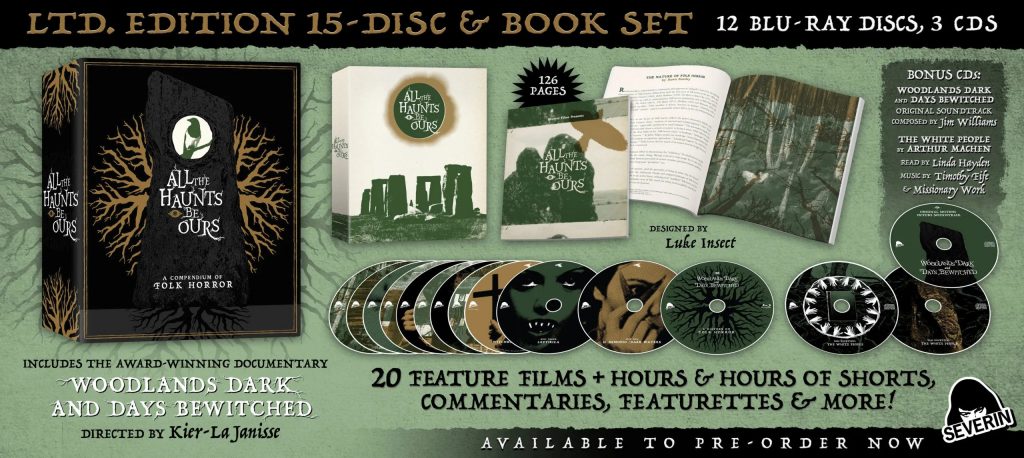 Now streaming on SHUDDER in North America, UK and ANZ as the centerpiece of their 'Folk Horror Collection' as of January 10, 2022.
Also North American VOD on Vudu, Apple TV, Youtube and Vimeo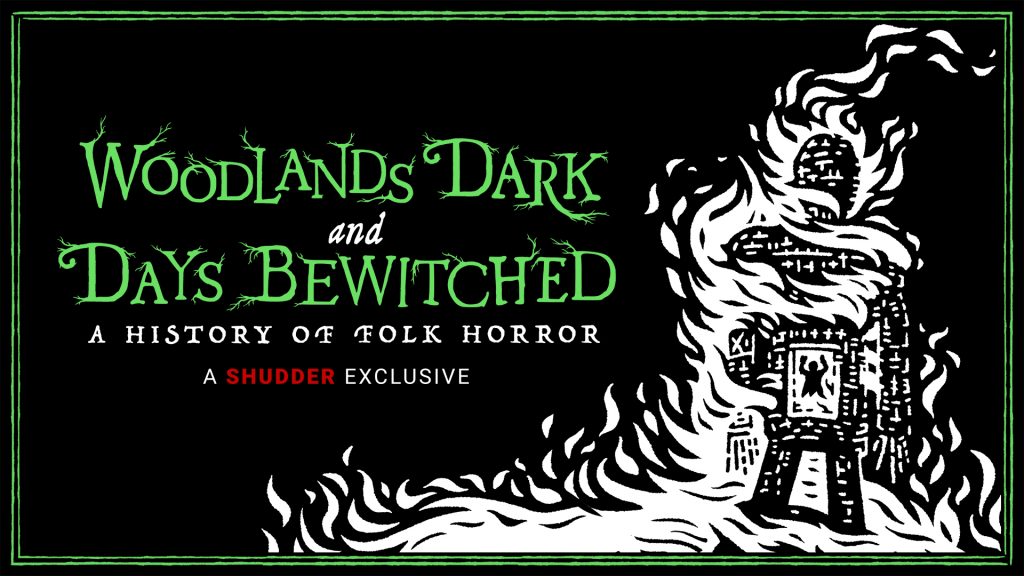 AWARDS
SXSW – Midnighters Audience Award 2021
Fantasia International Film Festival – Best Documentary 2021
Nashville Film Festival – Best Graveyard Shift Feature 2021
Chattanooga Film Festival – Best Documentary 2021
Popcorn Frights – Audience Award 2021
Letterboxd – 5th highest-rated documentary 2021
Seattle Film Critics Society – Nominated, Best Documentary 2021
The film also screened at IFFR Rotterdam, Melbourne International Film Festival, Oslopix, FrightFest London, Motel X, Fantastic Fest, Slash Film Festival, Beyond Fest, Sitges International Film Festival, Lausanne Underground Film Festival, Nightstream, Vancouver International Film Festival, Octopus Film Festival, Telluride Horror Show, CUFFDocs, Morbido Film Festival, Denver International Film Festival, Hawaii International Film Festival, Abertoir Horror Festival, Monsters of Film, Irish Film Institute's Horrorthon, Saskatoon Fantastic Film Festival, and the Gimme Some Truth Documentary Festival.
REVIEWS
The Guardian
Variety Review
Animus Magazine Review
Screen Anarchy Review
Bloody Disgusting Review
Indiewire Review
Austin Chronicle Review
RogerEbert.com Review
Dread Central Review
AV Club Capsule review
SlashFilm Review
Mashable Review
Consequence of Sound Review
Daily Grindhouse Review
Tilt Review
Cinapse review
IGN Review
Film Threat Review
Gizmodo Review
Screamcast Review
Film Pulse Review
Arts Fuse Review
INTERVIEWS
Filmmaker Magazine: https://filmmakermagazine.com/tag/woodlands-dark-and-days-bewitched/#.YFTVzBNKhE4
The Projection Booth: https://www.projectionboothpodcast.com/2021/03/special-report-sxsw-2021.html
Slash Film: https://www.slashfilm.com/woodlands-dark-and-days-bewitched-director-interview/
Austin Chronicle: https://www.austinchronicle.com/screens/2021-03-12/finding-the-roots-of-folk-horror-in-woodlands-dark-and-days-bewitched/?fbclid=IwAR1FHWxz1EBfoGLw-_K8R4GO–_Dy7LgZmbUCEf_KTBM7kLzCOZNIWi2aXU
The Lydian Spin: https://lydianspin.libsyn.com/episode-131-kier-la-janisse-part-2
Lights Camera Austin: http://www.lightscameraaustin.net/kier-la-janisse-march-2021.html?fbclid=IwAR3jM_IY2_H0tyDtG3wysKPGXaki8ffQjn0veuxkuWRUSDsZf1Q-P2eEBxQ
Letterboxd: https://letterboxd.com/festiville/story/bewitched-at-midnight-kier-la-janisse-premieres/?fbclid=IwAR1Iag7Ra_-qKjn_ZzgjOnKsDqC42dXaIcby0NnMT4in3kxVNy0pwUpn9KE 
Ssense: https://www.ssense.com/en-ca/editorial/culture/what-lies-beneath-folk-horror-aesthetics
The Daily Texan: https://thedailytexan.com/2021/03/17/qa-Woodlands-Dark-and-Days-Bewitched-film-team-talks-folk-horror?fbclid=IwAR1qxxnumAa37NoV0agQK7jyIuECL_lO8hEgNUJvGnOD2aNgycTHRGiFOCw